Profile of Lesley Jepps
I have always had a deep interest in all things spiritual, and from my twenties onwards, have sat in circles to develop clairvoyance. Reiki training brought further channelled healing messages for clients, specific to each person. I've always had a great belief in angels, and felt close to them. I feel privileged to be used in this way, to help others with their lives.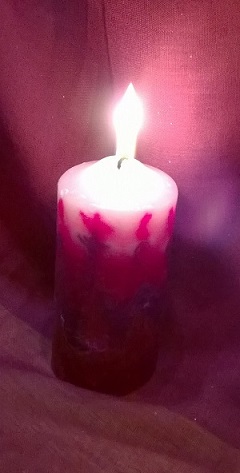 The Guardians of the Violet Flame.

The Violet Flame sits on top of the brow on the highest part of the forehead. It is a living flame of violet magenta light, and connects us to every manifestation of the violet flame in the physical, mental, emotional and spiritual dimensions.
Lady Portia is the Custodian of the Silver Violet Flame, which can bestow clairvoyance.
St Germain is the Custodian of the Violet Flame, and has brought this back to earth by channelling through Edward Courtenay in 2013.
Archangel Tzaphkiel is the Guardian of the Heart Rescue Flame.
Archangel Zadkiel is the Guardian of the Spiritual Rescue Flame.
Archangel Jeremial is the Guardian of the Physical Rescue Flame.
The Violet Robe is the Guardian of Wisdom.
All these presences make up the Guardians of the Violet Flame. These Angels of Light bring light, inspiration and comfort to mankind. Together, they form a group to channel through me and others. for those in need.
These writings give information of past lives, and what has been learnt in different lifetimes. The angels will sometimes show future events, but these are not traditional psychic readings where the future is foretold.
Fee
The fee for a reading is £35.
Email me a photo of yourself to Lesley_Jepps@hotmail.com.
Payment is by cheque made out to Lesley Jepps and posted to:

5, The Mews,
East Hoathly,
Lewes,
East Sussex,
BN8 6EH.

Alternatively, payment can be made by bank transfer - account details on request.
I will copy the reading and send it by email in a colour of the Angels' choosing. This can then be printed out and put against your solar plexus for healing. If preferred, readings can be sent by post.